Advice and training on climate-friendly agriculture, humus build-up, erosion control & water balance
Existing climate prognoses say that Central Europe will experience more storms and heavy downpours as well as prolonged droughts in the coming years. On the one hand, floods are to be expected, on the other hand, groundwater and drinking water supplies are likely to become scarcer. If nothing is done, the safety and quality of harvests may be dramatically endangered. We need a climate-friendly, but also better climate-adapted agriculture.
FLOOD

AND

DROUGHT

– WE

CAN

REDUCE

THE

RISK

!
Conference 2023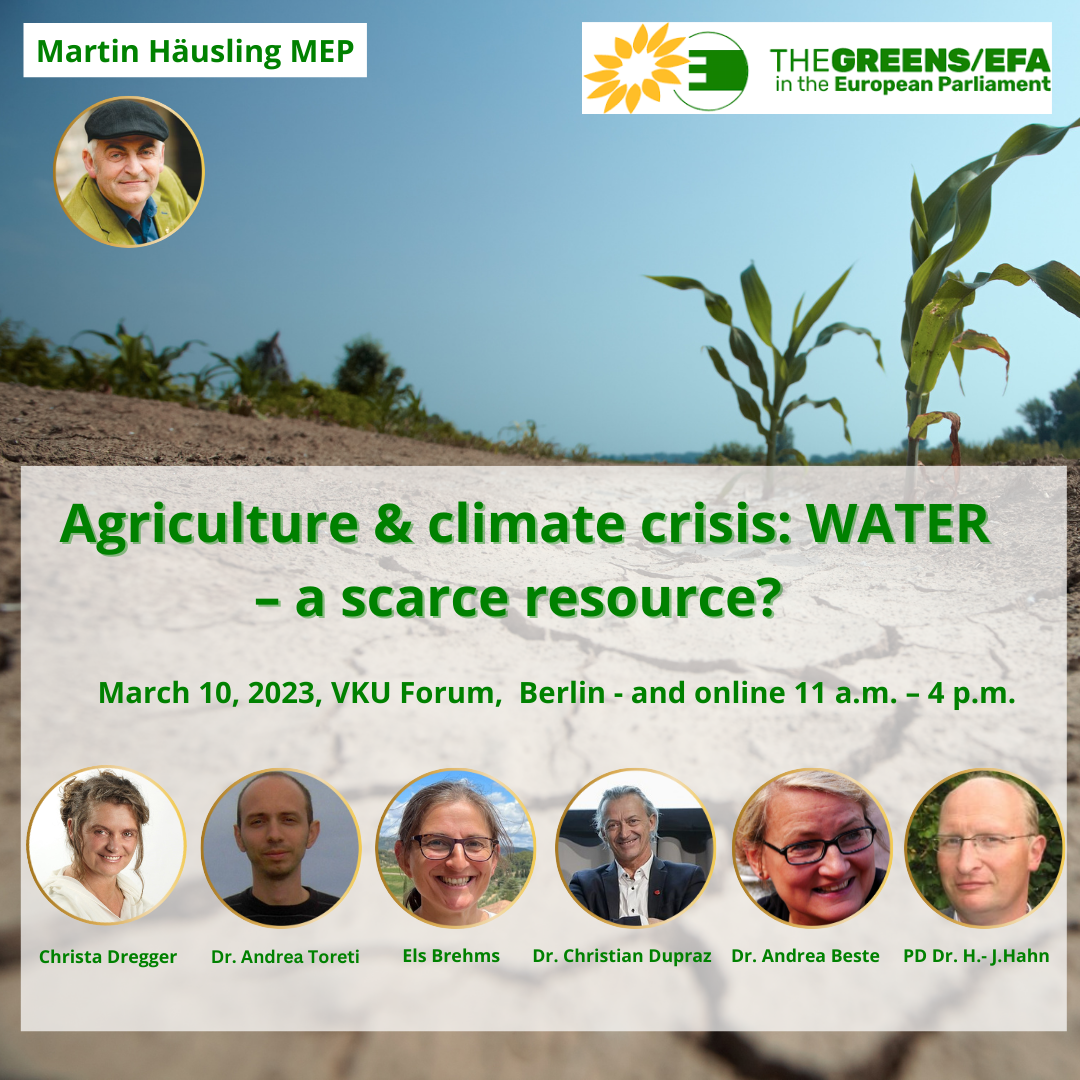 Agriculture & climate crisis:
WATER

– a scarce resource?
Water management not enough of an issue in politics
Both the water absorption capacity of soils during heavy rainfall events needs to be improved with regard to erosion and flood risk, as well as the water filtering and storage capacity in times of drought – for crop production and drinking water supply. Already in 2003 and 2006, and now in 2022 many farmers made the experience that well-structured soils with sufficient humus content are more resilient for each of the extremes mentioned here.
The increasingly frequent and violent floods are not only a consequence of weather phenomena such as heavy rain or of sealing by settlements and roads.
They also have to do decisively with agricultural soils that are no longer able to store the quantities of water. This is not only due to compaction by heavy machinery but also, most decidedly, to the creeping structural compaction of soils that results from improper management – narrow crop rotations, low humus content, decline in soil biodiversity.
Agriculture accounts for a quarter of all water withdrawals in the EU, where water is mainly used for irrigation purposes. Many regions are already experiencing water scarcity, and climate change is likely to exacerbate this problem. The Water Framework Directive has set a target of good status for all water bodies by 2027, but there are significant delays in achieving this. The Common Agricultural Policy (CAP) affects agricultural water use in different ways. The European Court of Auditors found in 2021 that agricultural policy is not consistently aligned with EU water policy and does not promote water conservation.
To manage water in a resource-efficient way in the face of climate change, we need active humus management and the promotion of biodiversity below ground: the soil microbiome.
We also need modern management in front of watersheds with more retentive water reservoirs, thus creating veritable "sponge landscapes" – the equivalent of "sponge cities."
This allows us to keep water in the area. It is available to agriculture in the soil for longer and reduces the risk of flooding in the valley.
Literature:
Beste, A., Lorentz, N. (2022): Down to earth – why soils play a key role in ecosystem-based adaptation. (Ed.): giz/BMUV
Beste A. (2021): Flood Protection – Let's Start with Soil. On: ARC2020
Beste, A.; Idel, A. (2019): The belief in technology and big data. The myth of climate smart agriculture – why less bad isn't good.
For a "good agricultural practice" in soil management, we need to know the state of soil functions. The best way to do this is with an analysis of soil structure. We need to know what the current soil condition is and how we can positively support soil quality in practice in the long term, This is the basis for maintaining soil functions and sustainably productive agriculture.
On the following pages you will find offers for analysis, advice and further training.